Lori Martinez
Executive Director
Lori Martinez joined the Ngage New Mexico team in March 2017, initially as the Assistant Director, then becoming the Executive Director in November 2017. Before coming to Ngage she worked at NMSU for 9 years overseeing the Social Work Services program and Aggie Cupboard food pantry under Counseling and Campus Health. She previously worked in Early Intervention providing Family Therapy and Social Work services.
Lori received her Master's and Bachelor's degrees in Social Work from NMSU. She serves as an Assistant Professor and Certified Field Instructor for the NMSU School of Social Work. She is a certified trainer in suicide 1st aid using the ASIST model of suicide intervention.
Having worked for years in Dona Ana County providing direct services, Lori became familiar with many of the challenges our county faces. She has experience working in early childhood, individuals with developmental disabilities, suicide prevention and intervention, mental health counseling, case management, program development, hunger/food insecurity, and inpatient psychiatric services. She was drawn to Ngage because of the collective impact approach utilized by the SUCCESS partnership and is thrilled to be serving Dona Ana County with Ngage NM.
Abeer Al-Ghawi
Assistant Director
Abeer Al-Ghawi joined the Ngage New Mexico team in August 2018. Before coming to Ngage she was a stay-at-home mom for three years. Her experience in early childhood education began at the age of 18 as a Teacher's Assistant in a Pre-K setting. Meanwhile she was pursuing her degree in International Business. In 2006, she started working for the British Council, the United Kingdom's largest international nonprofit organization, as a  librarian, and leaving as a Senior Examination Services Officer. She had a challenging and fruitful career focused on community engagement around bilateral relations, education, and literacy initiatives with partners spread across 120 countries.
Abeer left the British Council to focus on honing her skills in nonprofit and public sector management through New Mexico State University's Public Administration program while interning for the Las Cruces Green Chamber of Commerce. Upon graduation she spent the next two years working as a clerk for the state of New Mexico's Corrections Department.
Abeer decided to return to the arena of nonprofit work after struggling to find quality, affordable early childhood programming for her son. She was determined to help change that, and was drawn to Ngage NM because of their use of collective impact to improve the lives of children in Doña Ana County with affordable and accessible early childhood education.
Michael Radtke
Lead Museum Coordinator
Michael's wide variety of interests and social and political philosophies have culminated into a strong reverence for his community. At Ngage NM, Michael primarily coordinates early childhood programs as a part of an education initiative called the SUCCESS Partnership. He also serves on policy council for the Las Cruces Public Schools Head Start Program and is an avid supporter of local art and music. Michael received his bachelors from New Mexico State University, where he studied analytic philosophy, the fundamentals of which have provided Michael with strong critical thinking skills and a proclivity for creative and logical approaches to program management and problem solving.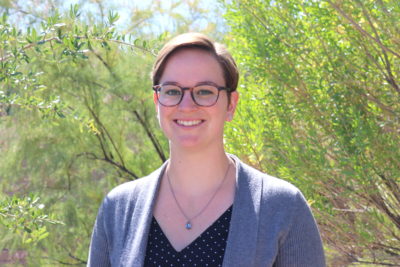 Candace Cichuniec
Special Projects Coordinator
Candace joined the Ngage NM team in May 2019. She has a bachelor's degree in human development and has experience as an early childhood educator. She is passionate about advocating for children's developmental assets that are needed in order to become successful adults. Candace joined the Ngage team because she has a passion for education and believes in their mission and values.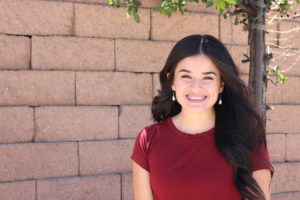 Briana Florez
21st Century Parent Engagement Coordinator
Briana Florez joined the Ngage New Mexico team in April 2020. Briana was born and raised in Carlsbad, New Mexico. She recently received her Bachelor of Science in Family and Child Sciences with a minor in Early Childhood Education. In the fall of 2020, she will be pursuing her Master of Science in Family and Child Science with an emphasis in Marriage and Family Therapy. Previously, she dedicated years working with children in child-care settings to promote social and emotional development. She worked to develop family engagement and quality education programming. Briana believes family involvement in education is a key factor to giving students the quality education that they all deserve. She is passionate about the collaboration between family, community, and education and hopes to help continue strengthen these throughout Dona Ana County.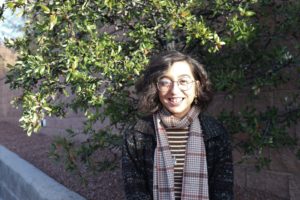 Alexis Gallegos
Administrative Assistant
Alexis Gallegos joined the Ngage team January of 2020. Alexis grew up in the Las Cruces area, and for the past 5 1/2 years, warmly served as the NMSU Wesley Foundation's Administrative and Hospitality Representative. She has a strong passion for the arts, and aspires to give her passion back to the youth of Las Cruces, for which she has been pursuing her Bachelors in Studio Arts. Alexis's primary goal is to dedicate her gifts and talents to better the community.
Cesia Otero
Doña Ana County Early Childhood Education Coordinator
Cesia Otero is the Doña Ana County Education Coordinator for the prenatal to career readiness education initiative called the SUCCESS partnership. Her role focuses on addressing educational policies and outcomes for children and families. Through the dedication of the Doña Ana County Early Childhood Education (ECE) Coalition she facilitates the county-wide education plan. Mrs. Otero received her bachelor's degree from New Mexico State University in family and consumer sciences with an emphasis on family and child science. Her passion for early childhood continues to drive her career. She has over 10 years of experience working with infants and toddlers in various programs. As a former Early Head Start Home Visitor she possesses extensive knowledge in working with low income children and families.

Sommer Mitchell
SUCCESS Partnership Communication Coordinator
Sommer started with Ngage New Mexico as a graphic design intern in late 2016. She volunteered her time creating graphics, brochures, flyers, bookmarks, and many other projects set forth by Ngage, the SUCCESS Partnership, and We Are IT. Starting with an A.A. in Creative Media Technology obtained from Doña Ana Community College in 2011, Sommer then received her bachelor's from NMSU where she studied studio art, marketing, and communication. Upon graduation in May of 2017 Sommer took on a more significant role with We Are IT, the Social Enterprise of Ngage NM, eventually becoming the Operations Manager for the organization. Promoting the work of Ngage, the SUCCESS Partnership, and We Are IT quickly became a passion for Sommer. When the position of Communications Coordinator for the SUCCESS Partnership opened up Sommer saw it as the perfect opportunity to expand upon this passion.
Erica Surova
Program Manager
Erica Surova is the Program Manager and Data Analyst for the Center of Community Analysis at New Mexico State University. Through surveys, assessments, and data analysis she works to centralize, analyze, and disseminate data to the community to improve evidence-based decision making and increase collective impact. Surova created the Education Context Report for Doña Ana County, conducted a gap analysis on early childhood education for the SUCCESS Partnership, and helped develop and analyze several surveys for partners at the Las Cruces Public Schools. She has worked in education for over 17 years and has two Master's degrees in Sociology and Geography from New Mexico State University.

Brooke Mathieu
SUCCESS Partnership Marketing Specialist
Mike Milam
President
Michael is Third Generation Army. He was born in Kansas. Michael has a MA in Management and Supervision from Central Michigan University. He studied Higher Education/Administration at NMSU. He graduated from the Italian War College and Industrial College of the Armed Forces. Michael completed two combat tours in Vietnam, three tours Pentagon, Washington, DC, two tours in Italy, and three tours in Germany. He retired as Colonel. His work experience includes Policy Analyst to the Mayor of Las Cruces, Staff Member for Senator Jeff Bingaman, and Political Consultant and Community Organizer. Some of his community involvement includes, former Chairman of Southwest United Way, Dona Ana County Maternal Child Health Council, and Dona Ana Action for Youth. Michael was former member of the Youth Challenge Group, New Mexico Advocates for Children and Families, Las Cruces Revitalization Project, Mayor's Youth Advisory Board (Las Cruces), Mayor's Veterans Affairs Board, Dona Ana Workforce Action Council, Mesilla Valley Youth Foundation (Court Youth Center). Currently, he is the President Tau Kappa Epsilon Fraternity Alumni Association, Member of the Empowerment Congress, and Volunteer Coordinator Anthony Teen Advisory Council.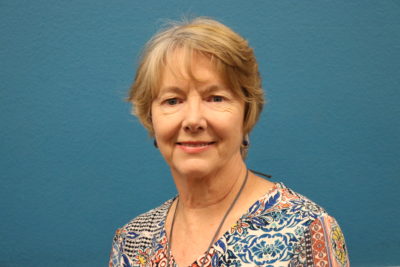 Judy Bosland
Secretary
Judith (Judy) Bosland recently retired from New Mexico State University after 27 years in institutional research.  While at NMSU, she honed her skills in data analysis, data management, quality survey techniques, assessment and evaluation. In her role as Assistant Vice President for Institutional Analysis, Judy learned to appreciate productive committees, positive leadership, and the importance of attainable goals to drive action.  Judy has a broad knowledge of post-secondary education, with a focus on student success initiatives.  As a native New Mexican, and long-time resident of Las Cruces, Judy understands the challenges present in the southern New Mexico community, and has a strong belief that data has an important role in confronting those challenges.
Rich Ferrary
Member
Richard Ferrary grew up in New England and graduated from the University of Texas with a BA in Economics, and then obtained a Law degree. He decided that public service was his path after a brief engagement with private practice. He worked as a Special Assistant Attorney General for New Mexico Department of Transportation for 25 years.  For the Department of Transportation, he was either the lead or only attorney handling employment law matters for over 20 years. These matters included disciplinary actions, labor relations, and civil rights claims. Most important was the development of policies and procedures for the Department in these areas. He either drafted or gave final legal approval to virtually every existing personnel policy and procedure. He was responsible for both program development and implementation of a department-wide sexual harassment training program for supervisors and employees in the 1980s after a lawsuit. No civil rights lawsuits were filed against the DOT in his last years of employment. After retirement, he moved to Las Cruces, NM with his wife, Joanne Ferrary.
In 1997, he began doing a substantial amount of volunteer work for two organizations: Mothers Against Drunk Driving and the New Mexico Make-A-Wish Foundation. For Mothers Against Drunk Driving, he was trained as a victim advocate and maintains a passion for prevention of underage drinking. For Make-a-Wish, he was trained as a "wish granter" along with his wife. In Albuquerque and in southwestern New Mexico, they are given the task of interviewing families with children between the ages of 2-18 with life threatening illnesses to determine what would be a special wish for the child. The most relevant and distressing aspect of this work was seeing how a child's illness could quickly financially destroy a family and how inadequate our healthcare system can be.
Jo Ann Garay
Member
Jo Ann Garay has been the director of the Small Business Development Center (SBDC), at the Doña Ana Community College, since January 2014, and has close to 20 years of experience assisting entrepreneurs in Southern New Mexico.  In an effort to reach beyond state and country boundaries, Jo Ann developed and presented (in English and Spanish) business and financial management "Train the Trainer" seminars, through a partnership with organizations across the United States.
Jo Ann's passion as a change catalyst has facilitated her community involvement regarding development in the areas of individual and community growth.  Her education includes degrees in computer technology and human resources management.
In 2007, Jo Ann was named one of New Mexico's 40 Under Forty Top Young Professionals by the NM Business Weekly. For Jo Ann the honor has been a constant reminder of how important it is to positively influence our young professionals and entrepreneurs with the intension to realize their full potential.
Alejandro Lugo
Member
I am very excited to be a member of the Board of Directors of Ngage New Mexico. My goal is to enrich the mission and ideals of Ngage NM through my 30 years of expertise and experience in higher education, both as a college professor and administrator as well as a cultural anthropologist with expertise in the U.S.-Mexico borderlands. I was professionally trained and educated in three universities (including Stanford Ph.D. '95 and NMSU B.A. '85) and I have taught at four universities across the nation, including the University of Illinois and Arizona State University. Currently, I am Affiliate Faculty of Anthropology at New Mexico State University, where I was awarded the 2019 Star of Arts and Sciences by the College of Arts and Sciences.
In addition to being a graduate of NMSU, I also graduated from Mayfield High School (Class of 81). As a member of the Ngage Board of Directors, this is the first time that I am able to serve my home State of New Mexico, particularly my beloved Doña Ana County. In the summer of 2018, I decided to move back to Las Cruces in order to contribute as much as I can to the success of all the local youth who belong to the local communities that helped me become the person, professional, educator, author, and senior scholar that I am today.
Dulcinea Lara
Member
Dulcinea Lara is Director of the Borderlands & Ethnic Studies program and an Associate Professor in the Criminal Justice department at NMSU. She identifies as Chicana Indigena, honoring her Apache and Rarámuri ancestry that is deeply-rooted in the region now called southern New Mexico. Dulcinea earned a Ph.D. in Comparative Ethnic Studies from University of California-Berkeley (2006).
Her teaching and research center a critical viewing and questioning of systems and knowledges that are designed and operationalized to advance some people/groups while creating obstructions for other people/groups.Dulcinea's work explores various kinds of residual evidence of colonization incolonias, poor and rural communities, and other "sacrificial zones." Her generative work aims to restore these zones into sacred places through collective dreaming, healing, and making.
She is a co-designer of the museum exhibit, Pasos Ajenos: SocialJustice and Inequalities in the Borderlands, a fully-interactive, bi-lingual, intergenerational exhibit that makes visible the often unspoken ways that divisions are created and deepened in the Borderlands.
Gema Sugs
Member
Gema Sugs has been in public education for over 18 years. Twelve of those years were in a High School Math classroom. In the role of a teacher not only did she facilitate learning opportunities inside the classroom but also outside. In those twelve years she served as a Senior Class Sponsor, Student Council Sponsor, Freshmen Academy Lead Teacher and Math Department Leader. In the last 6 years she has served as a School Building Administrator. In this role she has been able to support and in some cases oversee new initiatives that would result in better serving our students in the Gadsden and Las Cruces District.
In Gadsden District she was part of the committee that worked in establishing its first Early College High School. Had the privilege to be its first building administrator. While at Lynn Middle School we worked on creating LCPS' first Community School. Her focus was working for the student committee to ensure that the student voice was heard as decisions were being made.
Currently at Santa Teresa High School she oversees the Blended Senior Year program. The goal of this programs is turn a student's Senior Year of high school into the freshman year of college.